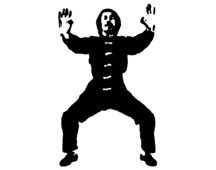 " During my first class I felt I achieved awareness of my body, space and the energy.... I definitely found a calm mind while my body regains strength. " L. D./2015

Learn, with proper guidance from a full-time devoted master, ...to aquire this ancient secret of Chinese culture, formerly reserved for the noble Mandarins and monastery monks. You too, can achieve the Benefits of Tai-Chi in mindfulness, centering,philosophy,fitness,&inner strength to enhance your own well-being !
Choose your teacher...who, in their educated ,fit, age-old background can teach you these correctly?
Trained also in the famous Ching Wu Wushu as well as in the monastery and, in the tradition of masters, Master Cheng achieved multi-cultural excellence in the chinese traditional arts and western technical sciences. He is truly a mature Master; and, qualifies as a very fluent speaker, having entertained over the years, large convention meeting groups.
Mstr. Cheng is a motivation speaker who can engage your meetings, conference,and your special events.

View > Events Page
You can acquire expert guidance in philosophy and techniques with Master Cheng,lic.acup.,msme,mba. Mstr Cheng is available to be at your affinity group meetings.
I was on the liver transplant list for 2 years. Even on powerful medications my liver tests were never consistently normal. I started Tai-Chi in January 2004.And have begun weaning off meds because tests are now returning in normal range ! " - S.K., Georgia
NEW: Call us for co-ed TAI-CHI / Qi-Gong / Kung-Fu Intensive, early morning boot camps
Tai-Chi principles are based on the elements of Chinese medical theory, in that, the center of the acupuncture meridian energy, "Chi", yin yang balance enhances your total well being in the wholistic way to live in harmony with your own self and with nature. Tai-Chi is a physical exercise; learned correctly it generates mental relaxation to really re-energize you every time.The movements are controlled, slow and continuously flowing; the entire Tai-Chi form can take as little as seven minutes, or as long as an hour to practice, equally by both the young and old.
Master Cheng applies special techniques of relaxation,so that his Tai-Chi revitalizes you, totally, enabling your entire being, body and mind, to be supple and well balanced; to reduce stress; to develop a centering of your own self; and to maintain or improve your overall health.
In the advanced stages, Tai-Chi can also develop your internal capacity which only few established masters can convey to you.
It is said the secret of acquiring Tai-Chi is in correct instruction directly from a dedicated and established teacher. Master Cheng, the director of the Tai-Chi-Association in U.S.A., since 1972, has been featured in most major papers and on radio and television, including an early interview with Forest Sawyer. Periodically, he still returns to the monastery for training sojourns and travels widely in China and abroad.
Come,see Master Cheng,and learn here at Tai-Chi-Association.
** Now, click on Application to Contact Us **